Pre-set plans are preferred by volume builders due to their speed and efficiencies, and are a 'one-size-fits-all' option for your sloping block build. With little to no customisation allowed, many builders tend to avoid sloping blocks due to the necessary modifications, or simply cut a hole into the site creating a flat floor plate for the home.
It is essential before choosing an approach that you are aware of the advantages and disadvantages of each approach, as there are short-term and long-term financial implications for each option.
The pros and cons of using a 'set plan approach' when building on a sloping site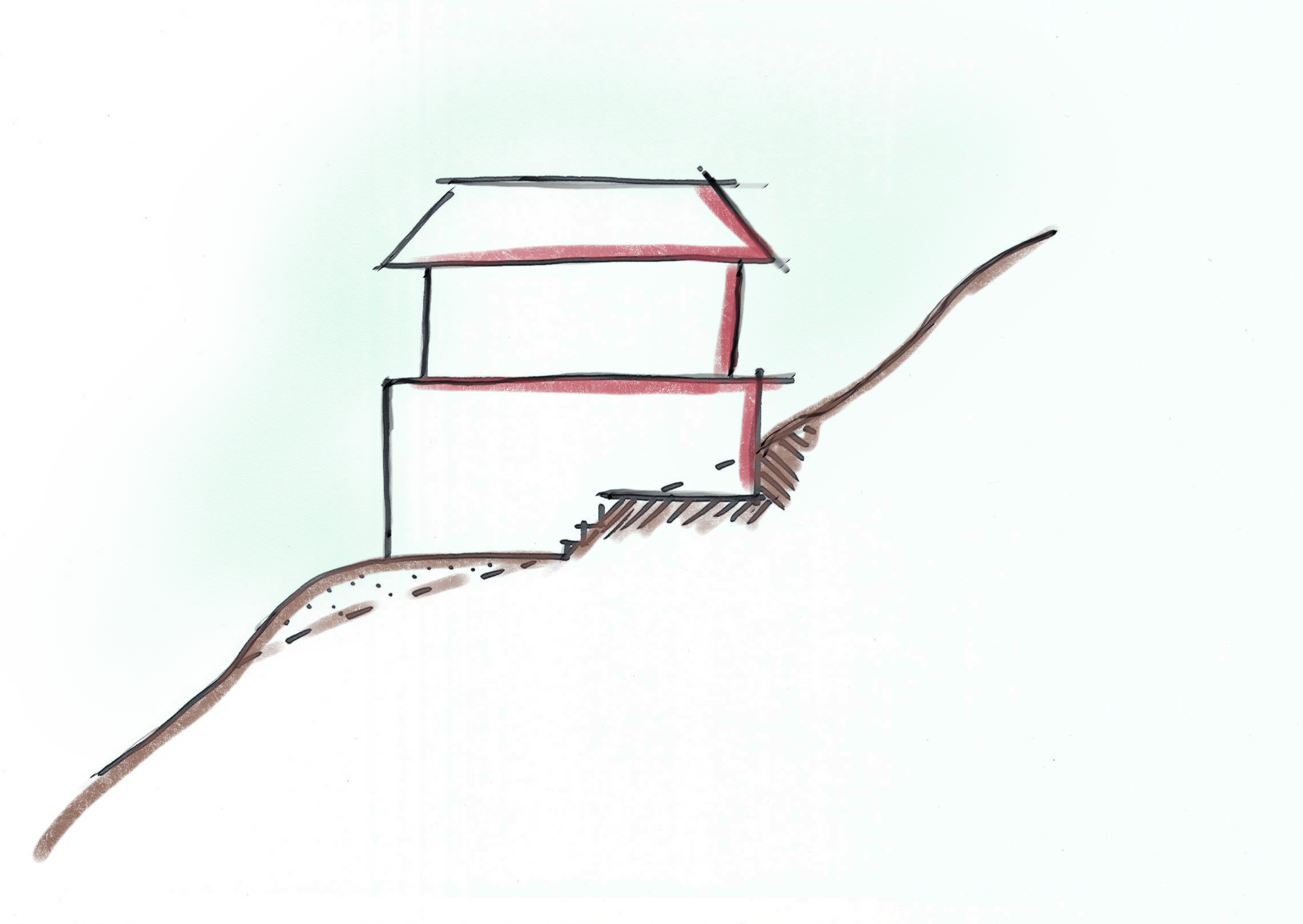 Sloping block homes that follow a set plan approach can deliver plans which are cheaper and faster to build/design. You can even tour a previous build to alleviate the fear of the unknown. However, they can also result in trade offs including design incompatibility, ignored opportunities, lower quality materials, inadequate passive design principles, build centric processes, inexperienced consultants and limitations of 2D plans.
Read below to find out if the set plan approach is right for you when creating sloping block house designs.
The advantages using a set plan approach for designing and building on a sloping block
1. Homes are cheaper to build
The set plan approach is best suited to builds with tight budgets. The compromise for financial savings however is a reduction in design elements such as orientation, site layout, natural light and architectural design.
2. Fast and inexpensive design process
Since you are choosing from a selection of set plans and inclusions, the design process is much faster and cheaper than a custom build. This is because they are making an existing design fit your block, rather than starting from scratch and custom designing each room.
3. Tour a previous build
Building a new home without first being able to inspect it is a daunting experience. With the set plan approach, the team has likely built a similar house to yours before. This allows you to check out the property prior to starting your build, and help mitigate the fear of the unknown by identify any lurking design flaws you may not notice in a 2D plan.
4. Faster build time
Perhaps the most appealing benefit of using a set plan approach for building on a sloping block is their quick build times. The builders have likely built the home (or variations of it) many times before, meaning the house will be move-in ready before you know it.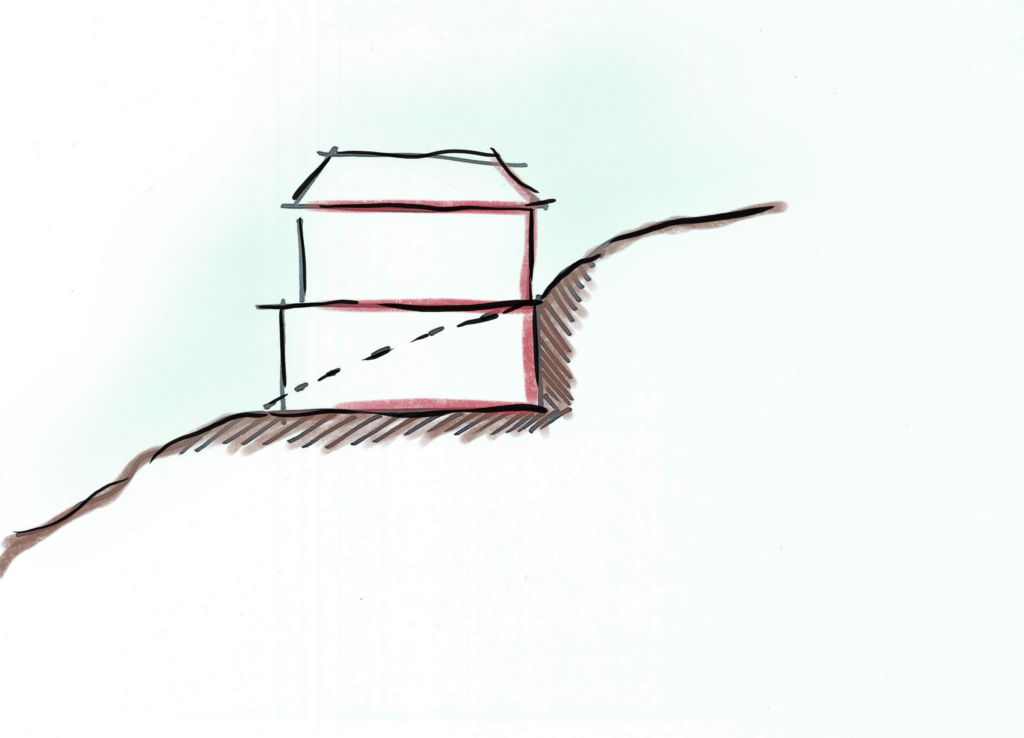 Disadvantages of using a pre-set plan approach for designing and building on a sloping block
1. Design incompatibility
Out of the box pre-set plan homes aren't explicitly designed for your sloping block's orientation and fall of the land. The set design will be modified to suit your slope, and because of this you may face several design issues, awkward room sizes, and a disjointed flow. Set designs can hinder how natural light is captured in the house – impacting the warmth and mood of the home. Views over the surrounding landscape are often gifted to the wrong rooms, or missed entirely. It's a costly decision to give the best views in the house, say, to the spare bedroom and not the living room.
2. Opportunities Are Ignored
It's the subtleties of your sloping block that should be considered and even celebrated, but a one size fits all approach is not going to achieve that. Little to no consideration is taken for the opportunities or limitations present on your sloping block with a set plan approach. You're taking a design and reworking it to fit, rather than designing it to hero. Similar to buying an ill-fitting shoe, you could be in for some pain in the long run.
3. Lower quality materials
Wiping tens of thousands of dollars off your build quote may seem attractive when you're starting the project, but can cost you more down the track. Cheaper materials may settle, rut, wash out, warp, fade, break, chip or corrode, diminishing your profitability long term.
4. Inadequate passive design principles
The passive design principles exist to ensure new builds take full advantage of the local climate and the surrounding landscape to regulate the temperature of the home. Passive design can reduce or eliminate the need for heating or cooling systems impacting the ongoing energy spend of the homeowner.
In pre-set plan homes, the passive design principles of the house are likely to be inadequate despite meeting the minimum 6-star rating.
5. Build centric process
The set plan approach is entirely build-centric. The focus is placed on getting the build completed as quickly as possible at the expense of good, thoughtful design. This can be an expensive trade-off long term and will likely impact the future saleability of the home.
6. Inexperienced consultants
Designing a home for the complexities of a sloping block requires enormous skill, training and experience. Unfortunately, builds following a pre-set plan approach can be critically impacted when design modifications are requested. This process is typically managed by untrained sales consultants, rather than professionals trained in the field of design.
7. Limitations of 2D
Many set plan homes are designed in 2D format, impacting your ability to read and really feel the spaces you are creating. Being able to immerse yourself in the design of the home is especially important on a sloping site where depth, scale and orientation can make (or break) a design.
The set plan approach will undoubtedly expedite both the design and build phases of your project, and will also save you money in the short term. However, are the long term financial risks of choosing a pre-set plan home persuasive enough to shift you towards a more customised, tailored approach to building on your sloping block?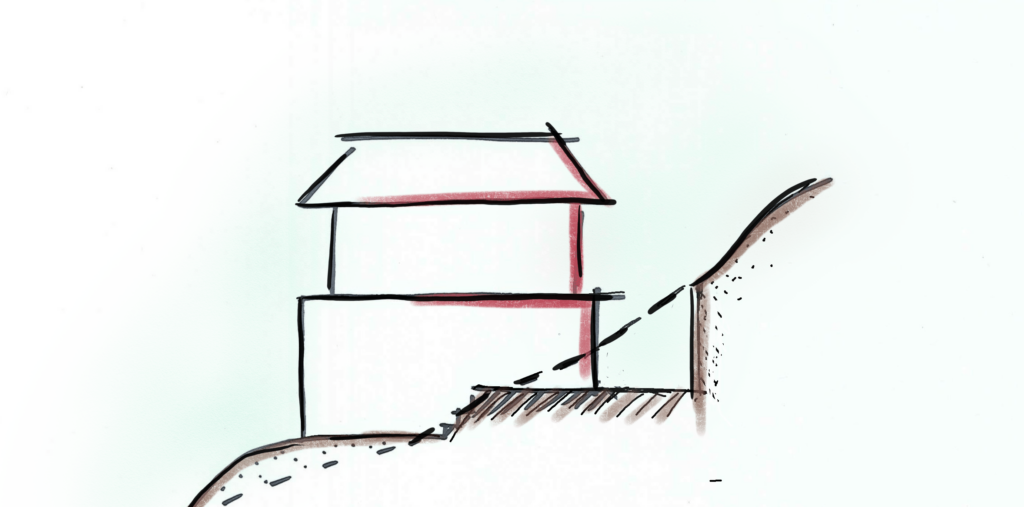 Destination Living's approach to building on a sloping site
At Destination Living, we create bespoke home designs for you. Our designs work with the land, your brief and your budget, championing the elements of your sloping site. We have continuously perfected our processes working with sloping sites over the last 20 years to ensure we can design and deliver the very best home for each sloping block. Find out more about Destination Living's approach to building on a sloping block.