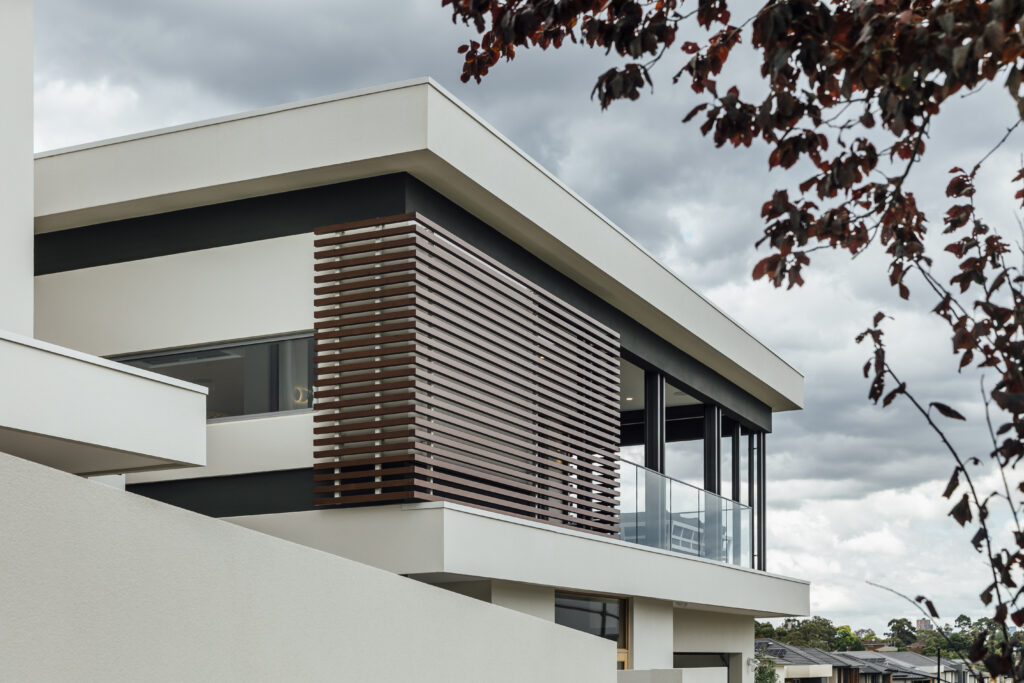 | The Brief |
Construction completed in Feb 2021, our clients are empty nesters who have lived in this prime location for many years and our brief was to knock down and rebuild 2 luxury modern dual occupancy homes that both capitalize and maximize the existing block and what it offers. Our clients are selling or renting residence 1 upon completion and keeping residence 2 which has been designed and tailored for them.
Although they have downsized, they are busy professionals who both primarily work from home living between 2 residences; including their coastal home which they love. They wanted to bring a little of that relaxed feel to this home as well as well future age in place planning.
| Our Approach |
As a corner block, we have been able to design a dual occupancy development with 2 street frontages on different streets. Both homes have city views and this was primary design motivator for residence 2 in particular with all living on level 1 and city views visible from the kitchen, living, balcony & master bed. The aesthetics are modern, architectural and gives a nod the 60 's style modernist houses found in the area.

Our Architectural & interior design team worked together in 4 key areas as part of the design
1. Designing for age in place provisions for the future
2. How to effectively live between 2 residences
3. Home office design; working from home
4. Sustainable design – how to achieve a house that can live and breathes on its own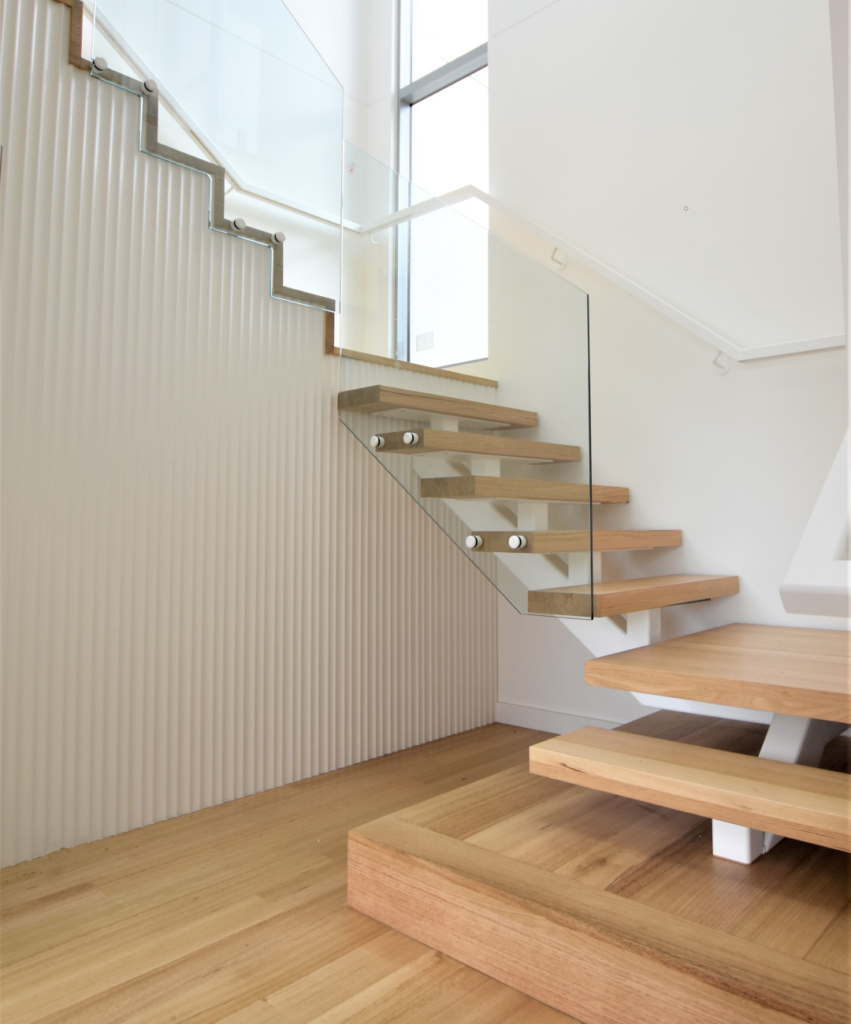 As downsizers and a viewing this residence in a longer term capacity we factored age in place provisions that may not be necessary now but have been considered for the future. Amongst these were • Future provisioning a space for a lift, factoring its location and size on both levels and designing in the future entry and exit points • Hand & grab rails locations which have been detailed for future installation should they be required • No steps between spaces like balcony & living & showers • Home automation- the ability have a functioning home, music & lighting, heating through voice activation


Working from Home and Multi use spaces
A large library with external access to the front has been designed in for our client who is a professional writer. This is a huge space, booklined to one side with French doors opening out to the garden the other side, it will allow him to work, conduct writing groups whilst still maintaining some separation from the rest of the home.
Our other client has flexibility with her working environment with the ability to be able to work remotely from multiple locations. She wanted a designated space for this, her space is also downstairs but in a separate zone. We factored the desk placement as well as views & external access to the garden
These specific spaces are also flexible & can act as multipurpose rooms that can easily be converted, the library can be used an alternate living space whilst the other study coverts to a bedroom.
Effectively residing between 2 homes
We looked & addressed the practical considerations around maintenance, services and security. Automation was critical in having this work. New automation systems have meant that this is now quite affordable and easy to use and expand upon.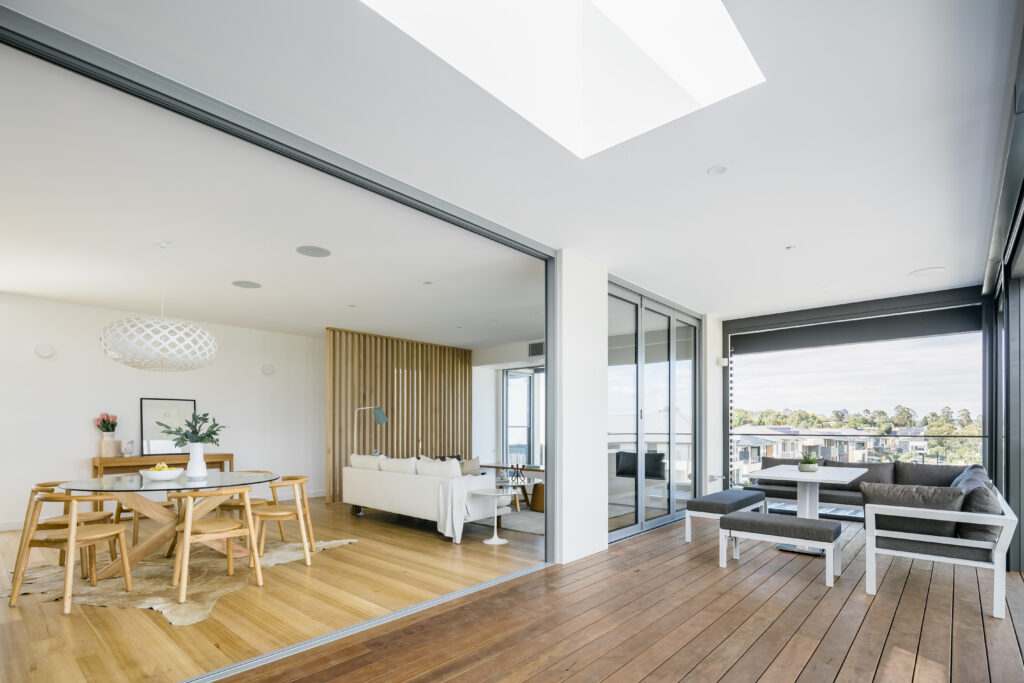 • Instantaneous heating unit with gas boosted solar as they are not there all the time.
• Low maintenance self-watering garden
• Automation of the following items is key with the ability to turn them off and on remotely or easily set up and amend timers
• heating & cooling
• watering the garden
• hot water service
• automated cameras & security- the ability to turn it on or off remotely & see what's going on live
• lighting- the ability to set at home scenes & work lighting remotely
• the ability to work the external blinds either remotely to keep the house temperate

Designed with market appeal
Residence one has also been designed with care & consideration and may be sold on completion. Paramount to the interiors was broad appeal to maximize sale value as a luxury residence for the likely demographic.

It is a 4-bed home with two master suites, including one on the ground floor. It features open plan living, multiple outdoor spaces & upstairs city views as well study/home office space. The interior design has both luxury design features and practical considerations like lots of storage and a stunning but highly function kitchen. Home automation also features in this home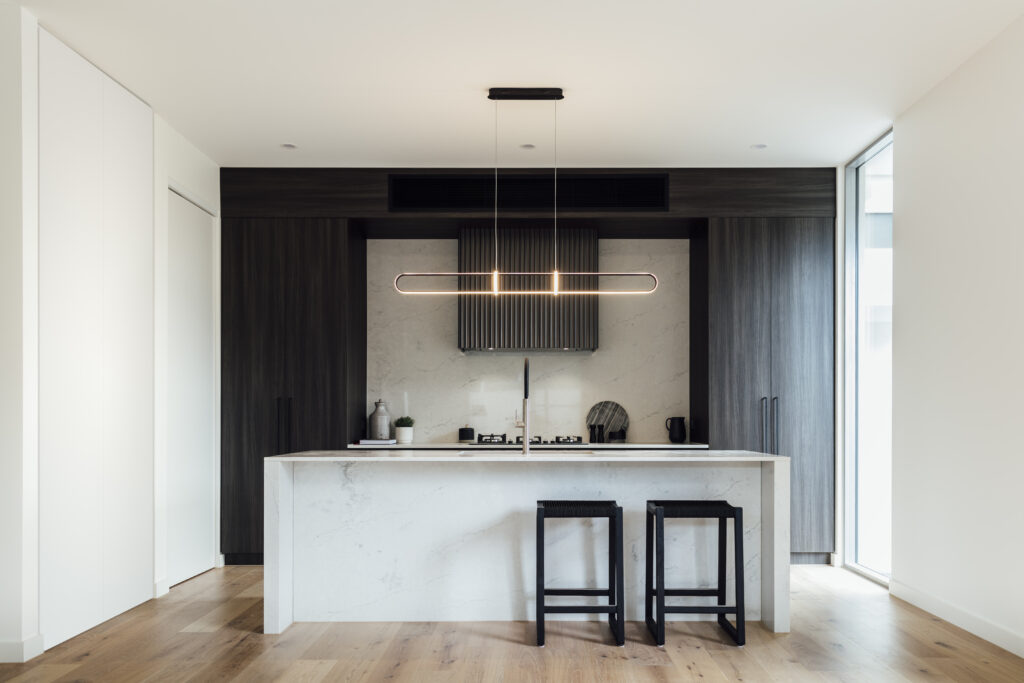 ---
Read more: