sloping block builders melbourne
Designing a house on a sloping block creates many possibilities for living spaces beyond a standard site
Sloping block house designs
Some Melbourne builders and architects take a standard home design and try to fit it on a sloping block. Not Destination Living. We relish the opportunity to create a visionary home which captures its distinctive setting. We have years of experience designing and building beautiful homes perfectly matched to each site and its unique environment.
Making the slope work for you
A sloping site brings with it a wealth of possibilities for creative architecture to create height, capture light and capitalise on views while giving you more privacy. Our approach and expertise with sloping block houses ensure that we deliver you a design that is spacious, versatile and custom to you.
Sloping block experience
Sloping blocks bring their own unique challenges, such as complying with council restrictions on height overshadowing, drainage and other regulations. But with expertise and meticulous planning, we can help you realise your vision.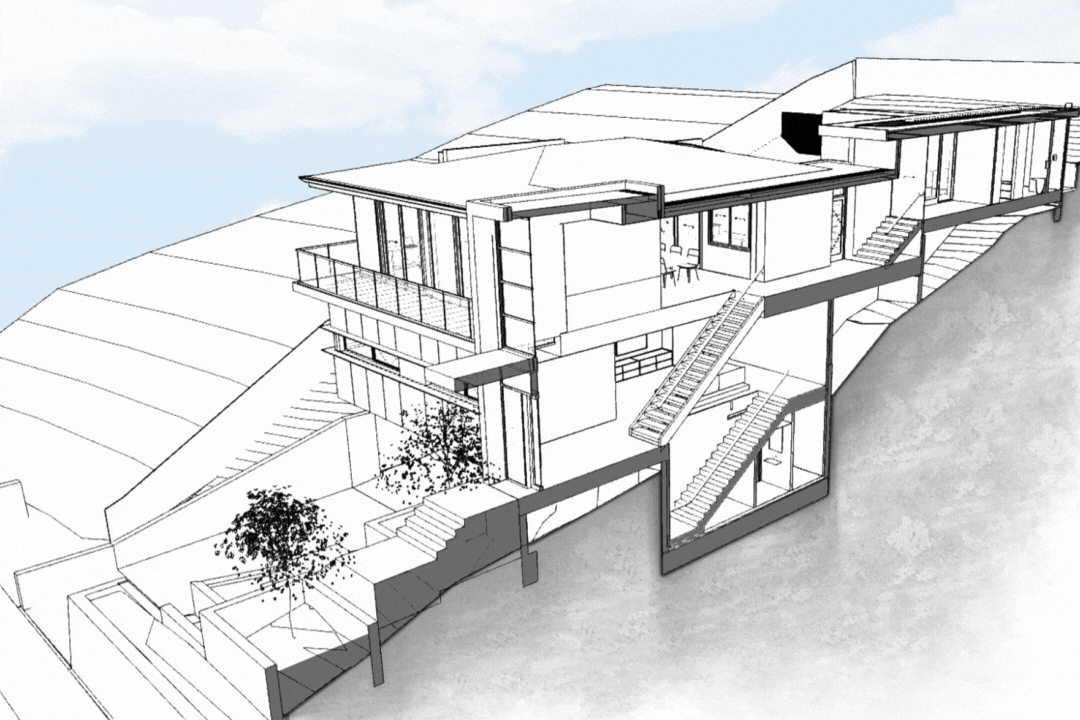 When it comes time to build your sloping block or split level home in Melbourne. Destination Living helps you capture the unique vistas of your block and bring them into your new home
4 Things to consider when building on a Sloping Block
1
---
Views and light
From capturing a full day's worth of sunlight to enjoying the sea breeze in coastal homes, a sloping block presents unique benefits that can't be replicated by a standard block.
Destination Living helps bring the unique features of your block to the forefront of your designs, leaving you with a home that offers you a feeling of light, space and privacy.
2
---
Foundations
We consider ways to capitalise on your sloping site, including basements or cellars, balconies or terracing and make your new home as energy efficient as possible. What we don't do is take a level block design and plan an excavation, as this approach may lead to structural issues down the track.
You can be confident that our builders' expertise with sloping block homes will result in a custom home with the highest standards of quality and safety.
3
---
Site complexity
Understanding the complexity of build site issues – such as planning for water direction, retainers and council regulations on overlooking.
Our architects take every factor of a sloping block into account including trees, neighbouring properties and the streetscape.
4
---
Human access
Our final planning point is to consider the access to your new home for you and visitors on foot and by car. We take a considered approach to ensure your access matches your site's characteristics and your future needs.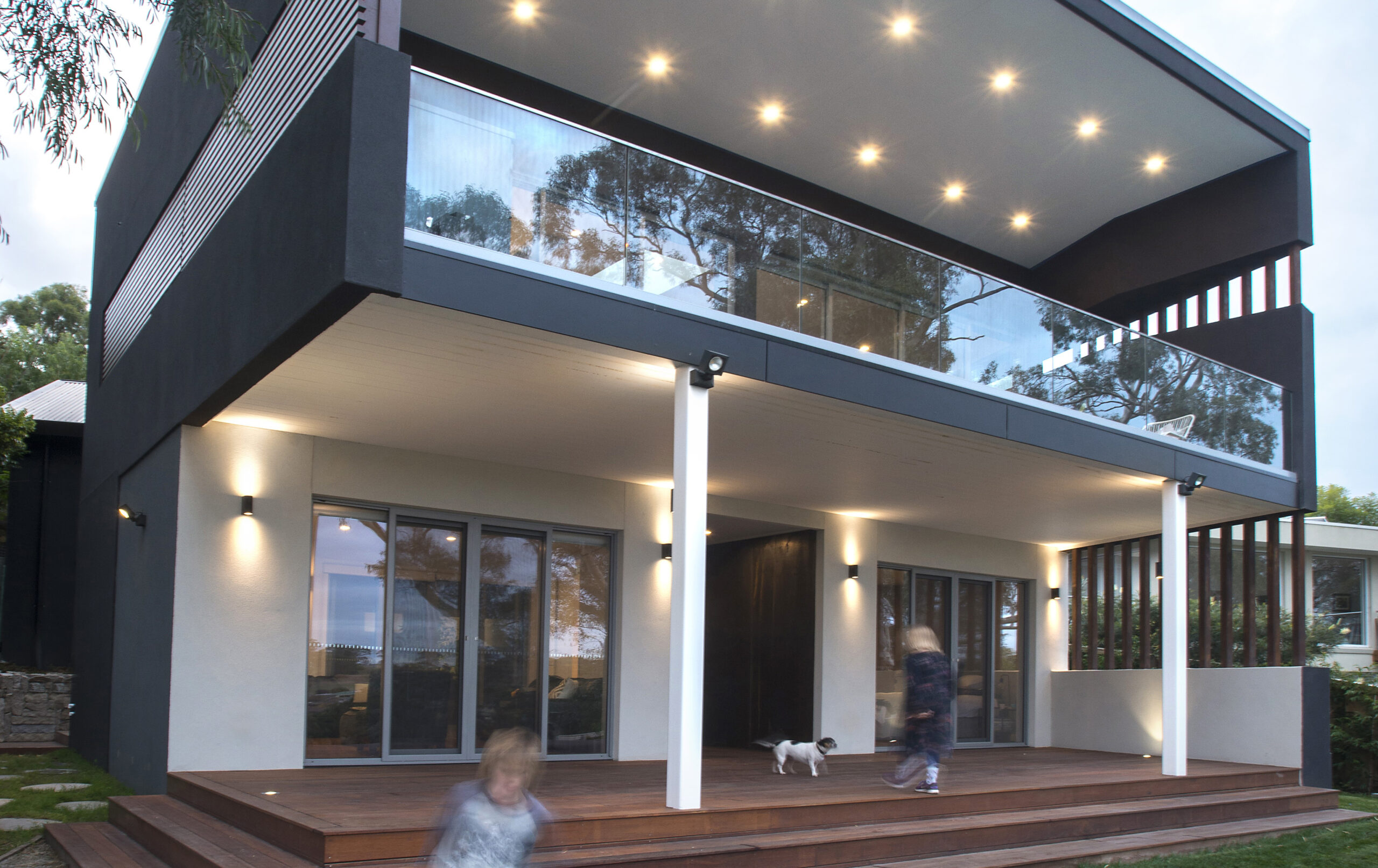 We never took into consideration the orientation, just moving it that little bit east has really maximised the view.
– Tash, Heidelberg
Visit our Home Building Calculator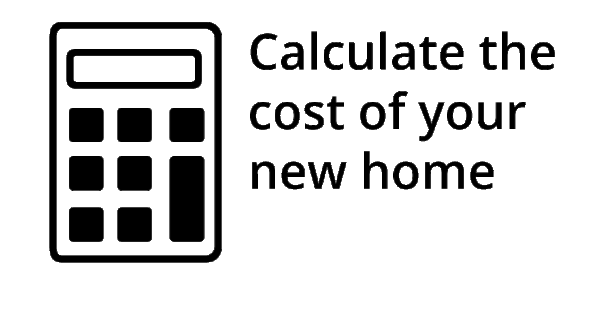 Building your dream home should start with clarity, and that means knowing what to expect financially. Whether you're eyeing an existing home renovation or starting fresh on an empty plot, our building cost calculator is your key to understanding project costs without any commitment.
What is classified as a sloping block site?
A sloping block is a block of land with uneven levels of elevation, resulting in a slope from one end of the block to the other. Generally, a rise or fall of three metres or less across the building area is manageable for most builders. Anything greater than that and building costs start to increase substantially.
What are the types of sloping blocks?
Sloping blocks can take many forms but there are four main types:
Sloping up: the low point being at the road
Sloping down: the high point being at the road
Cross fall: the slope is from right to left or vice versa
Cross fall and sloping: a combination of the above
What are the benefits of a sloping block?
Sloping blocks create unique custom home designs.
Opportunity to include reverse living to take advantage of views.
Multi Levels allow the opportunity to open various areas views and light.
Advantages to creating set in basements or cellars depending on the slope.

The Destination Living approach to building on a sloping block is best suited to homeowners who want to make the most of their opportunity.  Our method involves a thorough understanding of what is important to you, your life and style and the collection of all relevant information about your sloping site to uncover and assess your sites strengths, weaknesses, opportunities and threats before we start designing.
What are the disadvantages of a sloping block?
Council restrictions to height and number of levels
Additional earthworks costs
Steep or difficult access for vehicles and pedestrians
Additional drainage concerns
Additional costs
Sloping blocks can be rife with challenges and unexpected complexities, so we undertake extensive feasibility assessment before we design. Melbourne's Sloping Bock experts, Destination Living, know all about your site from council and authority constraints to the impact of trees, services, and neighbouring properties. Destination Living's extensive research and feasibility at the beginning of your project to adequately research the site will help you avoid a redesign and surprises in construction (saving you time and money).
Does it cost more to build on a sloping block?
Yes. On average you should allow an additional 15% to build a home on a Sloping Block. Engaging the Melbourne's Sloping Bock experts, Destination Living, to create your home means you get a team experienced in maximising the potential of sloping blocks without exceeding your budget.
Should I buy land on a slope?
Yes. If you plan to work with an experienced sloping block builder & you do your research. Sloping sites can have hidden problems that can add up to costly variations. Talk to a Sloping block expert like the team at Destination Living and do you due diligence.Things to consider.

Easements
Soil conditions
Water courses and drainage
Council restrictions
What should I consider when building on a steep block?
Steepness
Generally, any slope with an incline of three metres or less of fall is easier to build on, while a slope more than three metres increases the skill required for design as well as the cost.
Foundations
Extra foundation work is the biggest expense on a sloping block build and can cost thousands in site preparation, intensive earthwork and retaining walls.
Drainage
If drainage isn't managed properly, excessive erosion can occur. You need to consider ways to redirect the water, such as stormwater pits, tanks, drainage corridors or swales.
Access
Vehicles and pedestrians need to get to the property easily and safely; and you'll need to figure out the best position for a driveway and other entryways.
What are the best house designs for sloping blocks?
A split level home design is popular for sloping blocks. These floor plans are designed to work with the land rather than against it. Think cascading levels built to make the most of all the natural benefits that come with your unique lot. Split level home designs also tend to be cheaper. You may also like to consider a tree top treehouse, front deck, cut in, duplex or staircase style design for your sloping block.
Is building on a slope more expensive?
Yes and no. Sloping blocks are generally cheaper than the standard flat block. However, you could be looking at higher costs when it comes to building. This is why you need to consider your options here carefully. With the right sloping block and a bit of creativity, you could come out ahead. This is where Destination Living comes in. We specialise in home design for sloping blocks and will work proactively with you and your builder to achieve your vision.
How steep of a block can I build on?
Destination Living will design your sloping block house to specifically match your block rather than the other way around. For us, no slope is too steep.
An incline less than 10% is slight and the easiest to build on, while 11-20% is considered moderate and gradients above 20% are considered 'steep'.
When the gradient exceeds 15%, the cost of building on the site begins to increase because the risks get higher and building becomes more challenging.
How do I choose a sloping block builder?
Working with the right builder is important on any house build to ensure a smooth and enjoyable process. We suggest you find a builder that specialises in sloping blocks.
When looking for a builder, tell them upfront that you're building on a sloping block. Check up on their experience, look into their previous projects, and thoroughly discuss all of your plans with them to make sure you're confident they will be able to complete your project properly and with minimal cost.