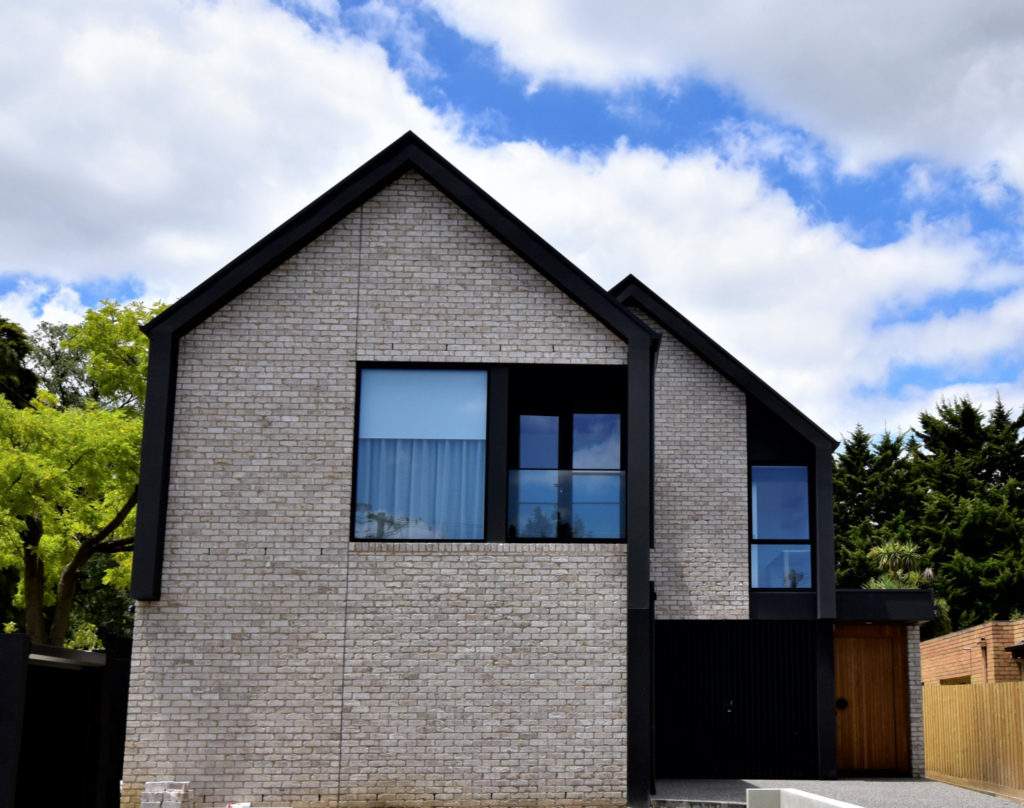 | The Brief |
A young couple with three children, our Rosanna clients asked for a durable, energy efficient home that would adapt and grow with their family.

| Our Approach |
Their corner site has a challenging two metre cross fall and neighbour setback restrictions on both frontages which created a compact footprint that dictated much of the build. Our team produced a triple gabled design that creates an impressive façade from both street frontages and accommodates the family's needs.
Recycled Italian brick is a feature along with strong dark framing and vertical screening. The vertical feature is repeated throughout the build in various materials and expressions, in joinery design, internal screening and external privacy features.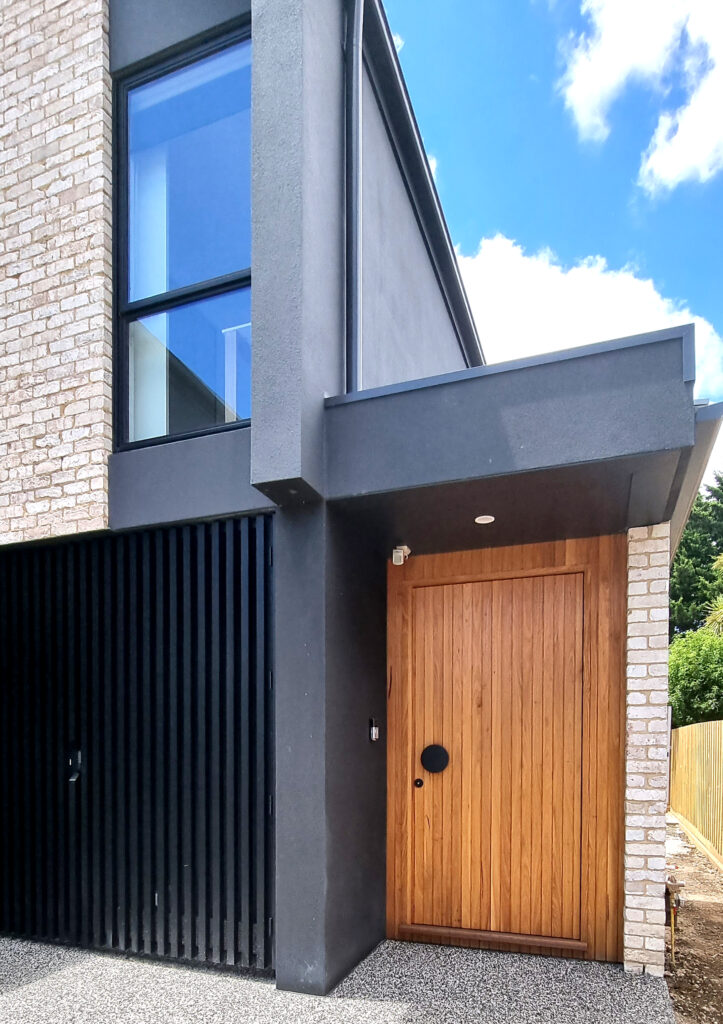 Privacy was key when creating the entry alcove which allows visitors to be greeted out of sight of the open plan living. Once inside the family and guests are treated to a view along a full length feature hall with vertical screening at the stairwell and ending in a picture window that frames a deciduous tree to allow for the marking of passing seasons.
The compact footprint was maximised through creative double-purposing of spaces. The double garage opens through glazed doors at the rear to extend space for a personal gym, In the kitchen a hidden study nook and pantry provide extra utility without sacrificing open space. The open plan living includes a large café style gas strut window with opens to the alfresco creating a servery feel from the kitchen.
Stairs lead to the intimate spaces of the house with a parents' suite separated from the kids rooms by the stairwell. A clever balcony in the Master allows for more ventilation as well as taking advantage of views to the south and west. The work from home study features a glass wall to the stairwell to bring even more light into the home and also looks out over the entry to the home to allow for monitoring of visitors.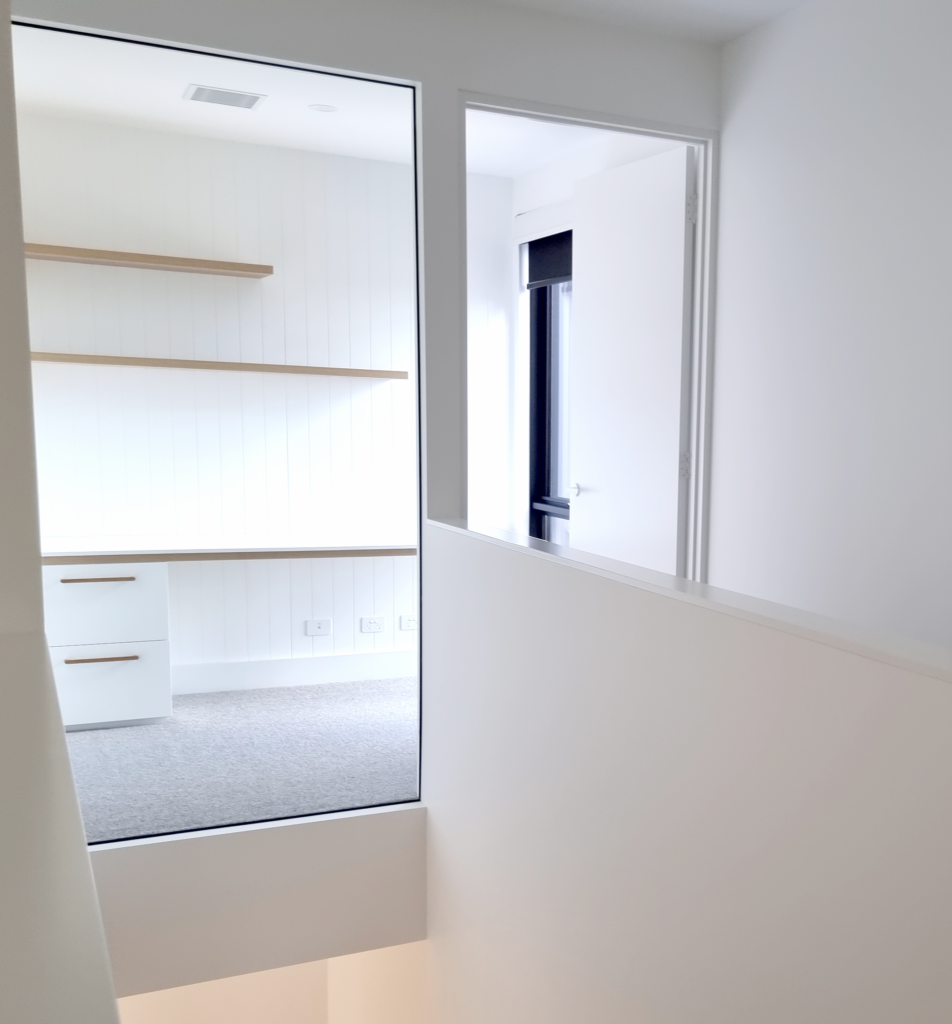 Distinct recreation areas, including a formal courtyard and alfresco, are complimented by a hard play area in front of the southerly located garage allowing for a place for sports away from the extensive glazing of the open living.

Creating an energy efficient home for their family and the future was important to our client. Features such as double-glazing, glass-wool insulation maximised to suit the thickness of each wall, and additional insulation between floors reduces energy load, allowing the building to act more capacitively thus limiting the need for mechanical heating and cooling.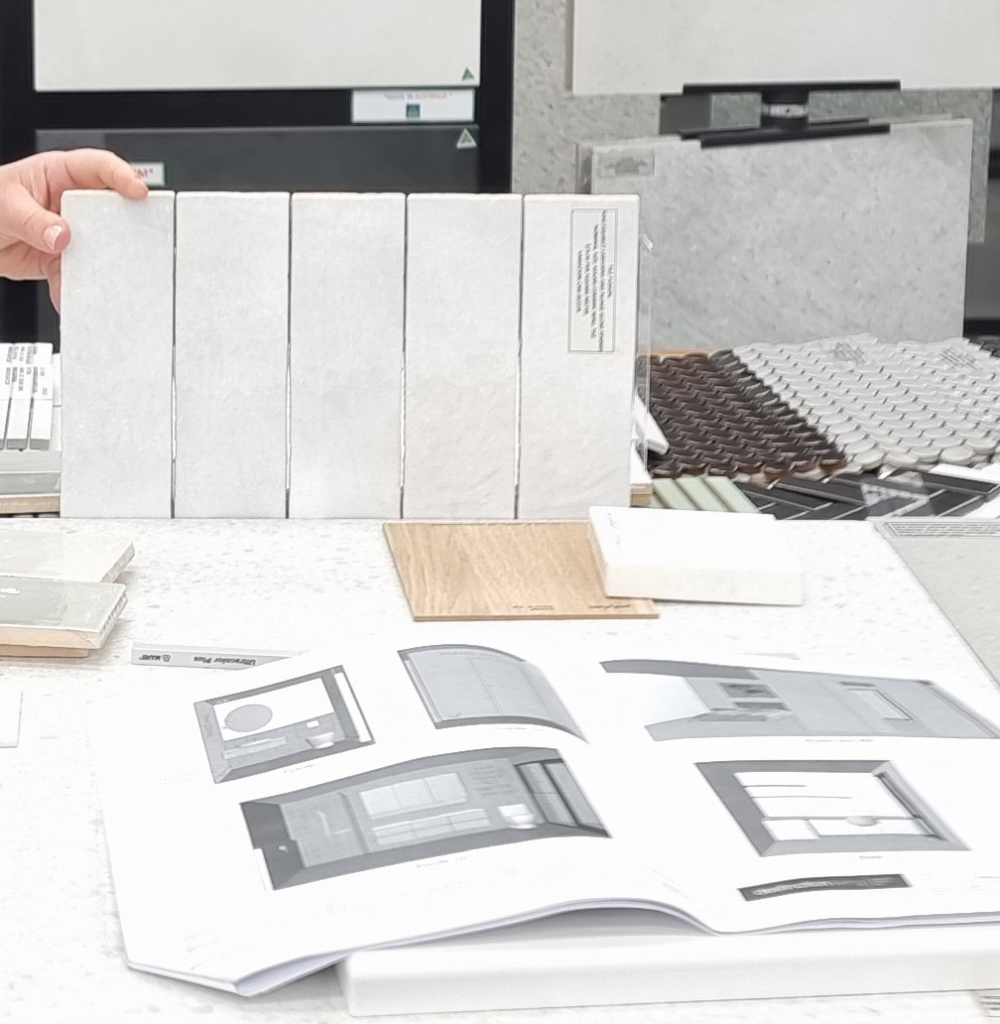 An emphasis on north facing windows ensures a good balance of direct light into living spaces over winter and a well-considered pergola and screening protect from summer sunlight. These windows are thoughtfully placed to allow cross flow ventilation ensuring that air flows freely throughout the home.


Cost considered architecture allows this two-storey home to deliver a functional family home that makes every space count and feel larger than it is. The use of feature materials creates a distinctive street presence and echo the traditional homes of the area in a home our clients will enjoy for years to come.
---
Read more: