Shelving
A pantry is generally a more modest design, with either open shelves, cupboards, or a mix of both for storing items, most often unperishable food. Commonly the modern pantry design has a maximum quantity of shelves for the display and store of these items. Narrow shelves are always a great option particularly for higher shelves. Narrow shelves make it much easier to reach items, and alleviate the dreaded problem of never being able to find the last tin of tomatoes! On lower shelves it is advisable to have them designed slightly deeper if room allows, for a handy space to store bulkier items such as olive oils.
Doors or open shelving?
There are two schools of thought with pantries, and that is the notion of having doors or no doors to conceal your items. There is no right or wrong, and is just a visual preference. Personally, I tend to think that a good design rule is that if you have a door separating the kitchen form the pantry, then it can be un-necessary to have doors inside the pantry. However if your pantry is open, I would think it is unsightly to be viewing your tins of tomatoes from the kitchen, so the addition of doors would be a must!
You are by no means limited to how you store your food. The addition of baskets or boxes for root vegetables for example, is a practical and attractive way to ensure these items maintain their freshness, and are also hidden from view. Vertical additions in the shelving can create a practical storage solution for those baking trays or cheese platters that are rarely used.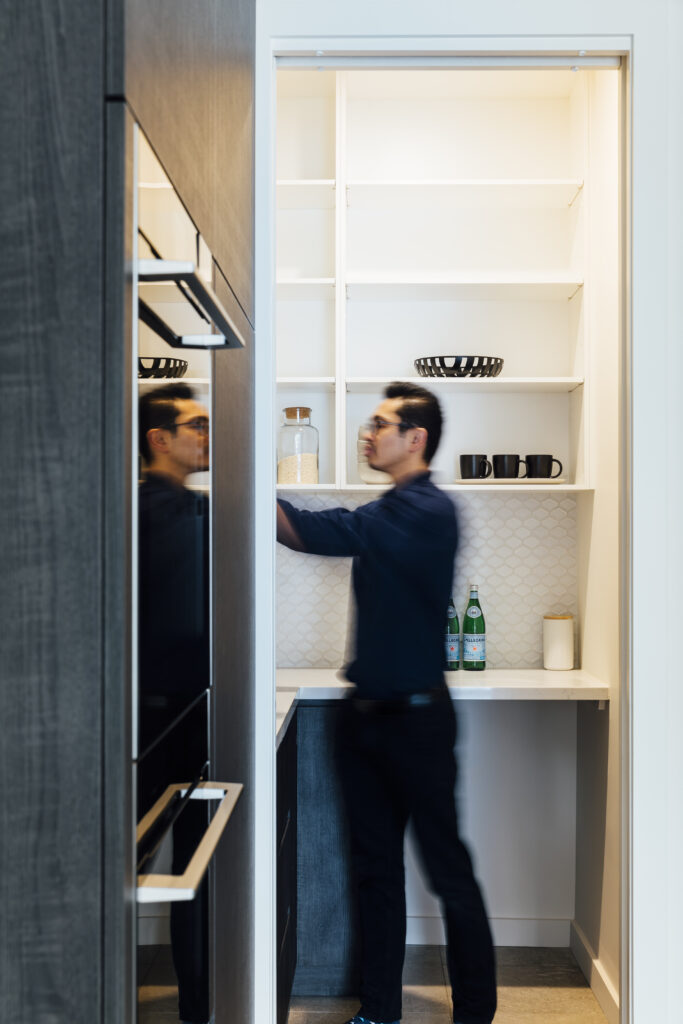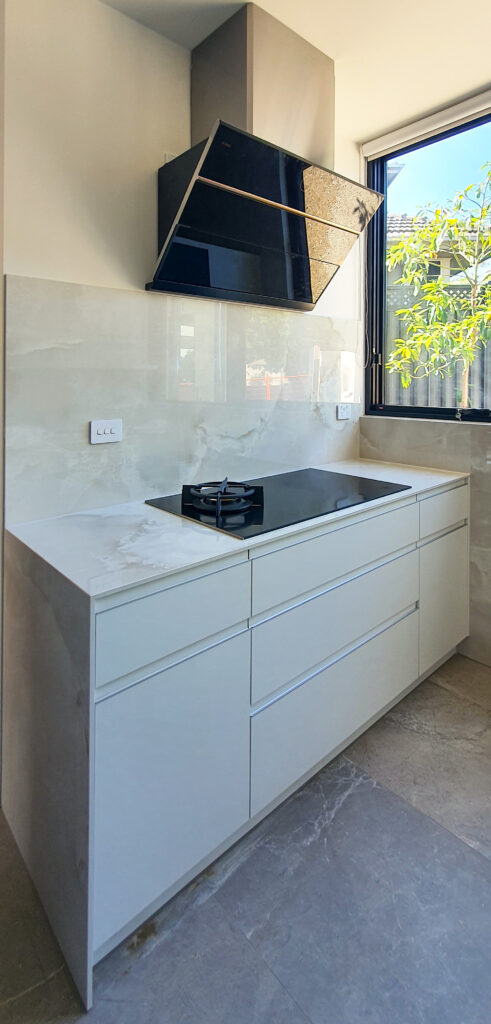 Butler's Pantry
A Butler's Pantry on the other hand is generally a much larger space used not just for storage, but they also contain countertops, additional appliances, and a sink to name just a few. Originally Butlers Pantries were spaces between a dining room and kitchen used by servants (or Butlers) as a space to prepare meals, and clean the dishes out of sight of guests. Butlers Pantry's are still very much utilized in this manner, only the humble servant or Butlers now replaced with the homeowner.
Butlers Pantry's are a "must-have" for a home to become an entertainer's delight! I like designing a Butler's Pantry to include a sink, and ideally a second fridge and oven. It is also an ideal space for a wine fridge and a second dishwasher. Depending on your requirements, your Interior Designer will be able to incorporate all necessary items into your Butler's Pantry with efficiency and workability and practicality.
Appliance Storage
Again, I like the idea of narrower overheads and wider cabinets below the bench top. I prefer to continue the finishes and design aesthetic through from the kitchen. This creates visual continuity when transitioning between the two spaces. It's really important that a space is allocated for all of your electrical appliances and I even prefer to keep every day toaster and kettle out of the kitchen, again as it can look unsightly. A standard household also has a coffee machine, microwave, blender and juicer. Then there is the ice-cream maker, the waffle maker, the popcorn maker, bread maker, deep fryer, food processor, slow cooker and the list goes on…..and on ! An appliance cupboard with folding or retractable doors is a great way to ensure that all of these items are neatly away from prying visitor's eyes, yet the doors can remain open to access items on a daily basis when it's just the immediate family at home.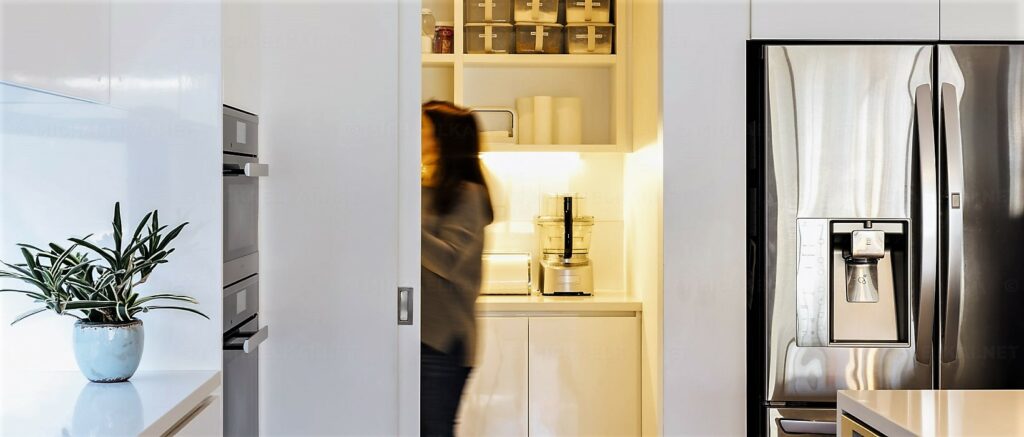 I like the idea of a large sink and a dishwasher or dish drawer in the Pantry, as there is nothing worse than entertaining with a large pile of dirty dishes lined up like angry soldiers on your beautiful stone bench top! I truly think it's so much easier and so much more pleasant to have an area where dishes can be dealt with at a later date.
A storage area for your cutlery and dinnerware that are reserved for special occasions or are rarely used is also a must. I also really like to allocate a space for oversized vases and bowls. These ample sized items can always be very difficult to house, so planning a space for them in advance is always advisable. With careful planning your pantry may just become one of the most important and most utilized spaces within your home. So go on, and store these ideas away!