What is dual occupancy?
Dual occupancy is defined as two dwellings on a single block and the same title. Dual occupancy homes can be side-by-side, under one roof with a common wall (also known as duplexes), or as separate dwellings with a shared driveway down one side of the property.
Why choose a dual occupancy home by Destination Living?
● Our dual occupancy homes are thoughtfully designed by our team of Architects, Interior Designers, Builders, & Landscapers, create functional homes that suit our client's brief and budget
● We design both properties to suit our client's desired outcome. If a client wants to sell the second residence, we design the home to maximise its saleability. If a client wants to use the second property as a rental, we ensure the design will optimise its rentability.
● You can take advantage of the resale value of an architecturally designed home down the track.
We have 20 years of experience in luxury custom homes and dual occupancy designs. Our process starts with you and your needs – not a predesigned floorplan.
What is the difference between a dual occupancy and a subdivision?
It's crucial to clarify the distinction between dual occupancy and subdivision:
Dual Occupancy: Dual occupancy homes are built on a single block of land and share a common title. Until they are sub-divided, they must be sold together as a single property. This approach is ideal for those who want two separate dwellings on a single piece of land while maintaining ownership of both.
Subdivision: Subdivision, on the other hand, involves dividing a single piece of land into multiple individual lots, each with its own separate title. These lots can then be sold or developed independently. Subdivision is often pursued when the intention is to sell individual parcels of land or to create separate properties.
Duplex: A Duplex is the term used when two residences share a wall commonly known as a party wall, parti wall or parting wall. This type of build is often used when space is at a premium.
How long does the average dual occupancy development take?
Dual occupancy developments require around 3 months for design to council submission depending on client availability. From there it can take 6 to 12 months for council approval. The approval process does vary from council to council and our team is well versed in navigating the particulars of Melbourne's councils.
At Destination Living, we specialise in dual occupancy designs for challenging blocks.
We follow a thorough 7 step process for all our custom builds. This allows for regular communication about the progress of your project. We update costing and time projections along the way, so there are no hidden blow-outs. Plus, our team of experts – architects, designers, and builders – are in-house, which means you get the dream team all under one roof.
Our collaborative and efficient approach ensures that building your dual occupancy home becomes a reality sooner.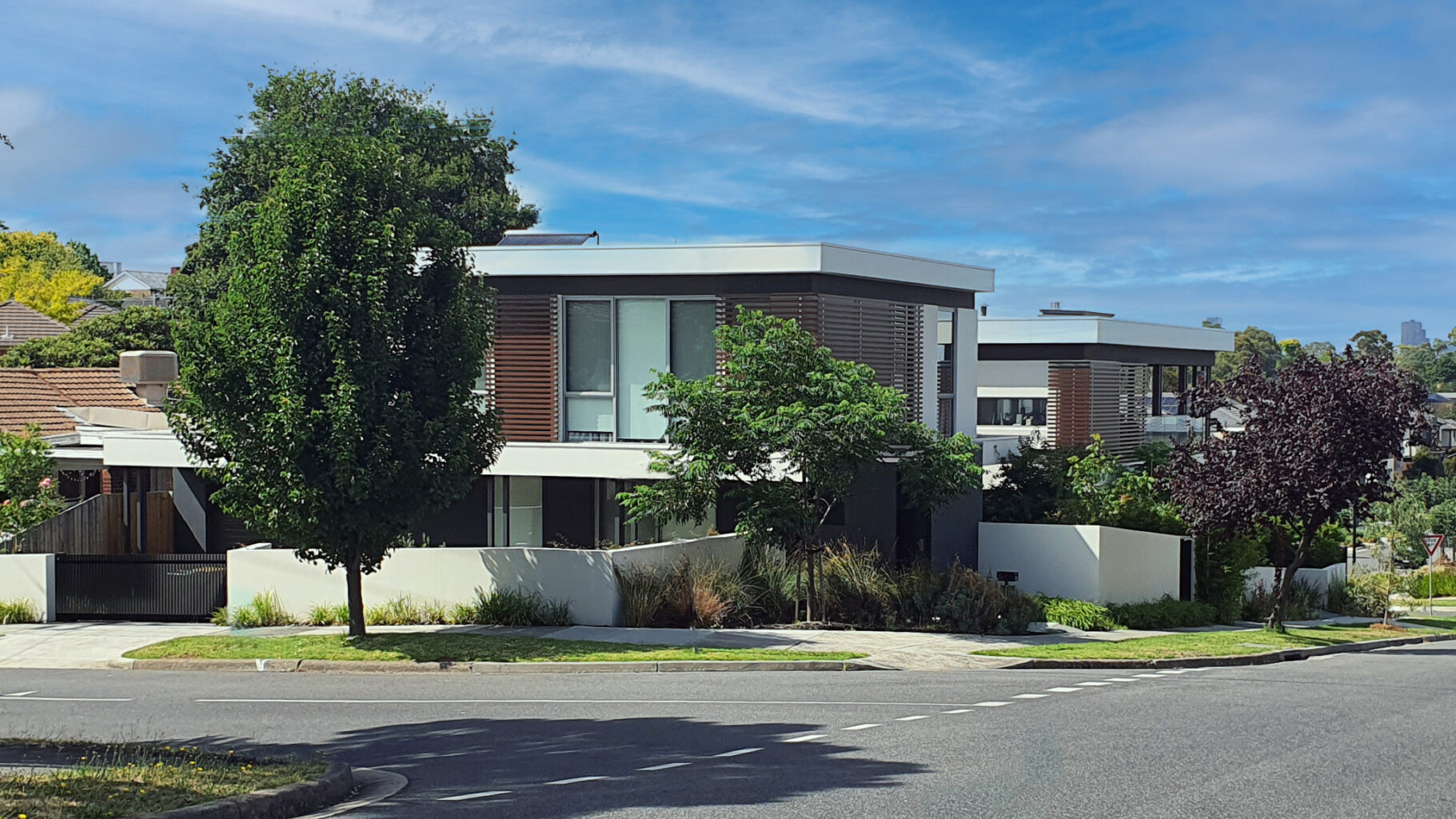 How do I start a dual occupancy project?
The first step of any building project with Destination Living is a site feasibility study. This analysis reviews planning permits, confirms utilities' location, and assesses any site constraints.
Navigating the world of permits and regulations can sometimes be a daunting task. Dual occupancy homes require careful planning and compliance with local council regulations. Engaging the services of experienced professionals, such as architects and builders specializing in this area, can help streamline the process and ensure compliance with all necessary regulations.
At Destination Living, we guide you through the application process for dual occupancy. We engage the services of experienced town planners to help ensure your project is successful.
Can you build dual occupancy homes on a narrow, irregular, or sloping block?
Yes, you can – with an expert team by your side.
Building a dual occupancy on a sloping, narrow, or challenging block can seem daunting. With the right architect, one experienced in navigating the complexities of challenging sites, you can unlock the potential of your difficult block. At Destination Living, we embrace the possibilities presented by sloping and irregular blocks, and our team will guide you in assessing whether a dual occupancy or duplex project is right for you.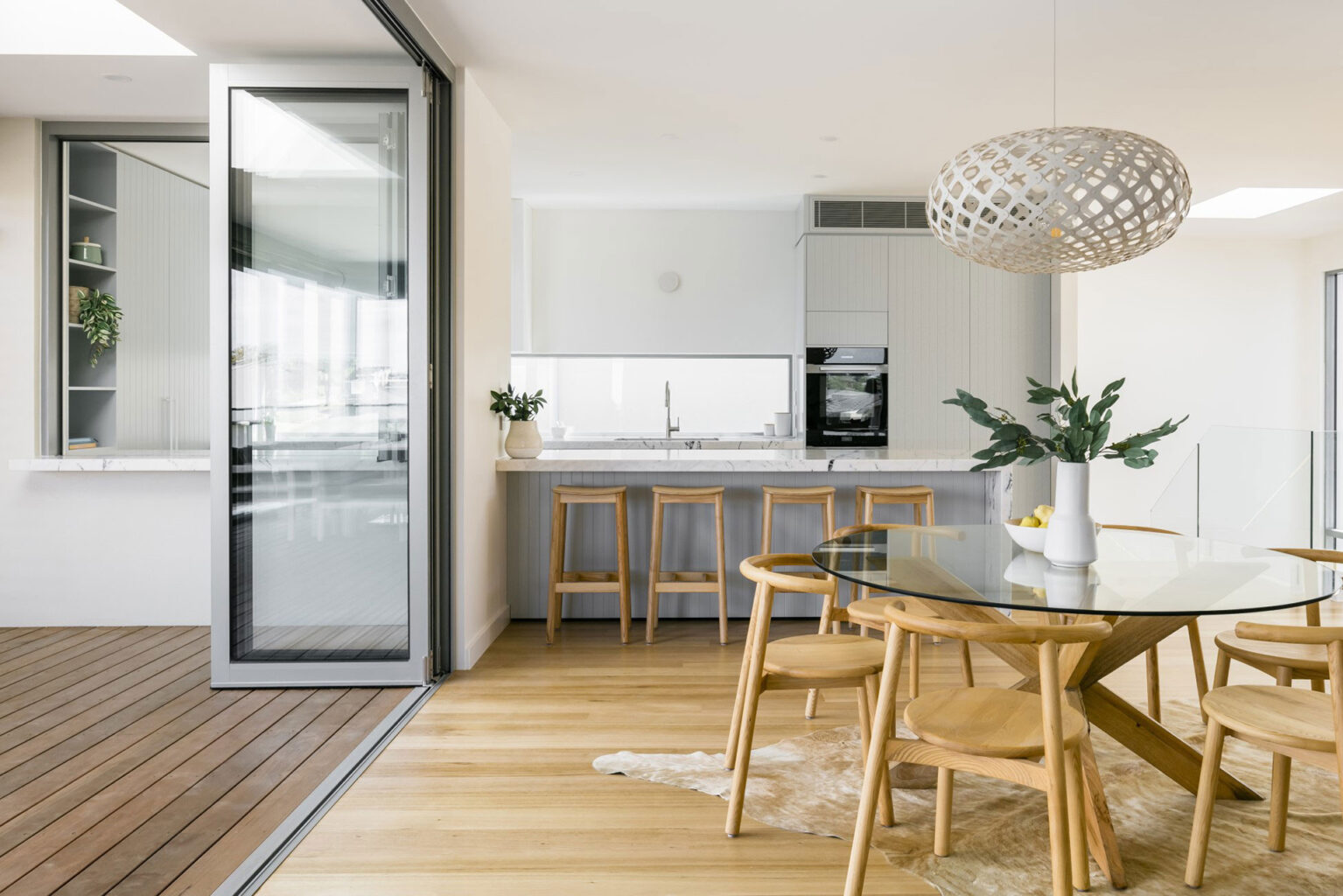 How much will my Dual Occupancy project cost?
Dual Occupancy projects can be costed to fit your design and budget.
While each project is unique, build costs for Dual Occupancy vary depending on the level of design & finishes.
• Entry level design & basic finishes $20,000+ per square
• Mid to high level design & finishes – $28,000+per square
• Super luxe design & finishes – $35,000+ per square
Our experts will assess the feasibility of your project, your site and your goals and will provide an estimate of the costs of your project.